Wedding Videos France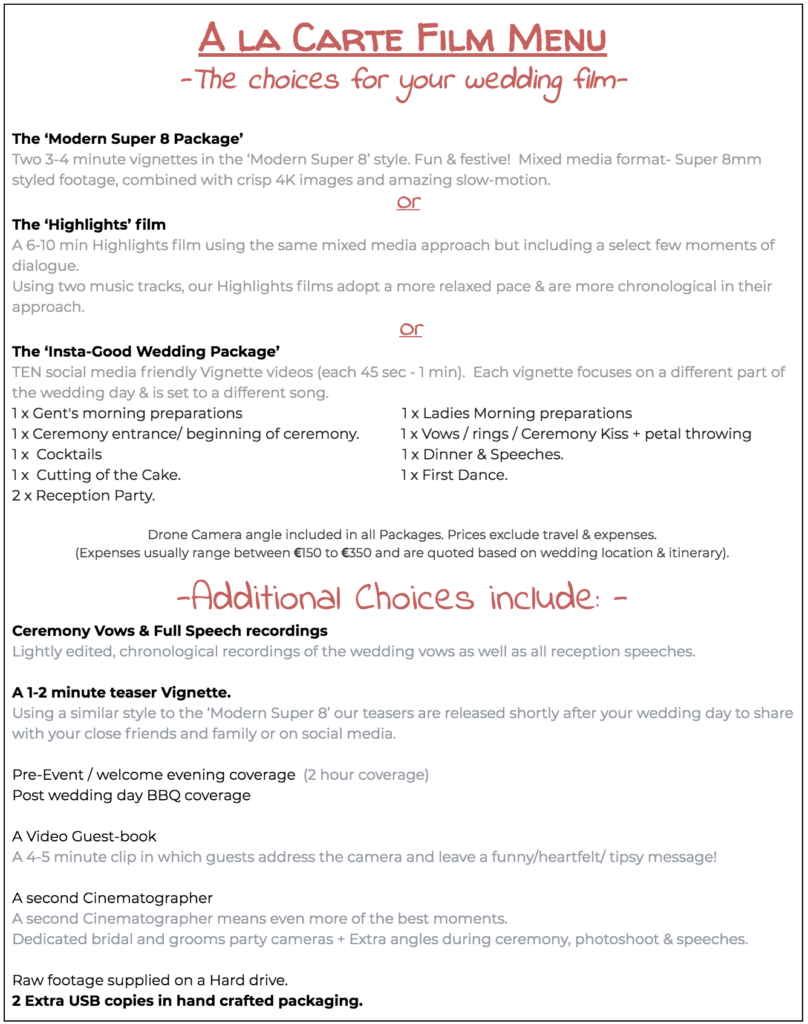 Let's talk about wedding videos here in France!
You have gone to a lot of effort to make your upcoming wedding reflect you as a couple. Its your day, your celebration and every last detail has been organised to be just how you imagine. 
So why should your wedding video be any different? We believe that choice is important when it comes to tailor making a wedding film to suit your personalities.
Rather than offer a fixed 'package', we offer a 'A La Carte' Film Menu which gives you the chance to choose only whats important to you.
Our favourite type of wedding films are our "vignettes" which are fun & festive wedding films that are highly edited, colour graded, and set to a song which you love. Our 'Modern Super 8' package includes two of these 3-4 minute vignettes which, using a song that you love, take a "mixed media" approach to filming. We combine vintage super 8mm styled footage, with clear crisp 4k images and some great slow motion shots to tell the story of your wedding.  Alternatively, we offer a longer "highlights" style film which combine two songs of different tempos, as well as dialogue from the day,  to really reflect the different parts of the wedding day.  
These two styles are the basis of our film menu, you can then choose the numerous options which suit you.  From Teaser films- released for social media just shortly after your wedding date, to Vows & full speech recordings, Elopement & Save-the-date films to extra film crew and Drone footage, everything is tailorable. 
Tell us what you think! If you have a question relating to our pricing, choices, and just how flexible we are with tailor making a film for you, send us an email or chat with us via our contact page.
We look forward to discussing your wedding video.
MotionCraft Creative // Destination wedding films & Luxury wedding videos // France, Italy & Uk & across the globe.